See them live and in colour!
During our Broadcast Innovation Day, you can experience a selection of OB vans we completed lately or are working on right now.
The event is your chance to learn everything you wanted to know about OB vans: coach building, room concepts, workplace concepts, ergonomics, lighting, interior design, materials, air-conditioning, air-cleaning, equipment, systems integration, formats, cameras, carbon footprint, and more.

All of these aspects bleed into the highly professional production tools we build.

Do you have questions? We will answer them!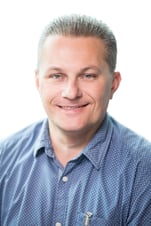 Your contact for everything about OB vans:
Sascha Franke
Director of Project Delivery
Studio Berlin Ü10
(24-camera UHD/HDR OB van)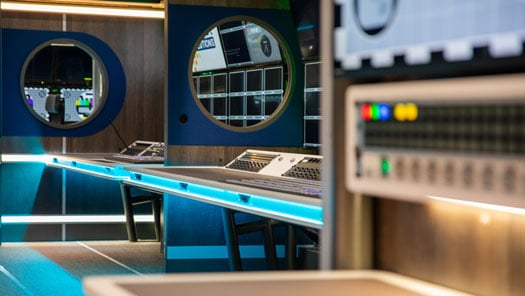 With Ü10 Studio Berlin and Broadcast Solutions have set new standards in German outdoor TV production. Following new paths in the design of OB vans both companies break new grounds on the concept of separating technology and production. All hardware is outsourced to the support vehicle, an approach that is unique to date. Broadcast Solutions and Studio Berlin used the additional space to set new schemes in room layout and arrangement, always aiming to respond as flexible as possible to the vehicle's use in different productions.
OB for South African Customer
(24-camera full-IP UHD OB van)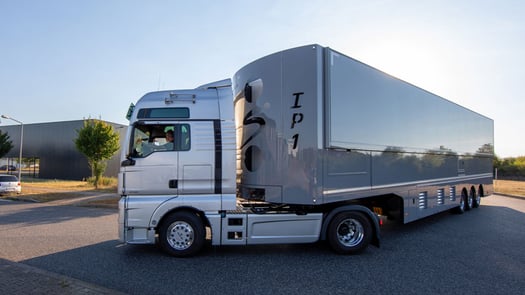 With this 24-camera OB van, Broadcast Solutions has built its largest OB van ever. The vehicle is designed as a full-IP UHD OB van and operates based on the SMPTE ST 2110 standard. With three extensions and an exceptional length of 16 metres, possible by special regulations in the country of use, the full-size trailer offers 70 square metres. The design and interior work follow customer-specific requirements. Broadcast Solutions has deployed thought-through high-performance air condition and air cleaning tools (UVC) to ensure maximum safety for the staff working in the OB van.
SRG

PaaM
(8-camera UHD/HDR OB van)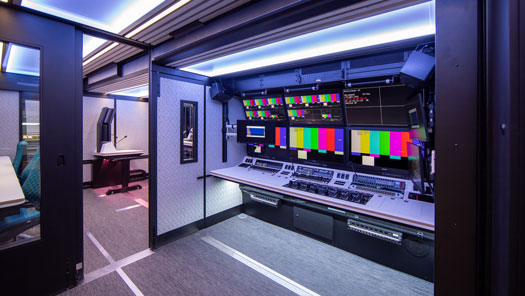 The last of three identical OBs for Swiss broadcaster SRG. The three identical 8-camera OB vans for SRF, RTS and RSI are designed as self-propelled trucks. The OBs excel with a high level of individuality and quality in the fields of workplace and workflow concepts, acoustics, interior design, lighting concepts and air management.
AFFA VAR
(Mobile Video Assistant Referee solution)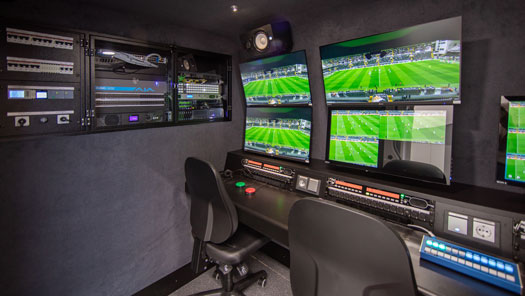 A VAR VOR system incorporated in a 3,5 t transporter for Association of Football Federations of Azerbaijan (AFFA). With the delivery of previously delivered permanent installed VAR hub plus VAR trucks AFFA became a FIFA certified VAR system user. The additional VAR truck ramps up AFFAs VAR capabilities in cases where venues lack a fibre line connection to the VAR hub in the Olympic Stadium or distances are too wide.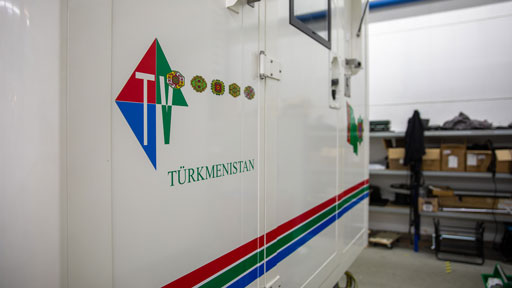 We deliver 4 identical 6-camera OB vans (HD 1080p), incl. uplink, to Turkmenistan TV. The OB vans are designed as trucks with a special box body and offer six workstations and a storage room in this compact design. The uplink suitable for Standard and Low Ku-Band makes the vehicles independent in the field and versatile.